_Ativar a Copy of Raster1.
9-Plugin FFG/G _Panel Stripes.
27/132/70.
10-Plugin MuRa's Meister \ Perspective Tiling.
*Com a Ferramenta Magic Wand \ Feather 80 \ Clique na parte transparente .
Veja configuração :
*Deletar ( quatro\ seis vezes ).
_Selections \ Select none.
11-Plugin MuRa's Meister \ Pole Transform_Default.
_Ativar a Raster1.
12-Select All. Edit Paste Into Selection. Selections\ Select none.
(o tube paisagem aabibichescery001a, deverá estar na memória).
_Effects\ Image Effects\ Seamless Tiling _Default.
_Adjust \ Blur \ Gaussian Blur. R=20,00.
13-Edit Copy nos respingos d'água do tube PSPCYBERTUBES-tube2011-498 ( raster3 ) \
Paste As New Layer. Layer\ Arrange\ Bring to Top.
_Ativar a Raster 3.
14- Edit Copy no tube DWpspcybertubesnudes4-007.\ Paste As New Layer.
_Resize e posicionamento.
15-Plugin Flaming Pear\ Flood ( mudando o primeiro valor ( Horizon) para 83 ).
16-Edit Copy no bird_brushes_II_by_lpdragonfly_5\ Paste As New Layer. Use a gosto.
_Ativar a Raster2.
17- Edit Copy no elementoscriptlc1\Paste As New Layer.
_Effects \ Image Effects \Offset: H= 0 \ V= 280 Custom e Transparent marcados.
_Ativar a Raster3.
18_Plugim AAA Filters\ Custom.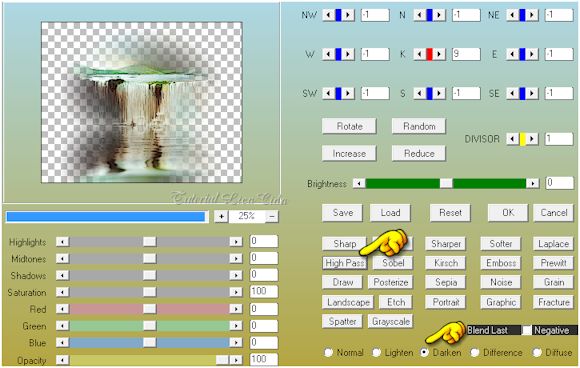 _Duplicar a Raster1.
19-Plugin Nick Software\ Color EfexPro 3.0\ Bi-Color Filters\ Color Set \ Violet\Pink4.
Layers\Blends\Opacitys.
20- Image \Add Borders \1 pxl symmetric marcado. Color= #000000.
*Faça a gosto seu acabamento.
Aplicar a Marca D'agua.
Assine e salve.
Abril de 2015.