_Adjust\ Sharpness\ Sharpen More.
21-Edit Copy no decomp\ Paste As New Layer.
Layers\ Arrange\ Bring to Top. _ Objects\ Align\ Top.
layers\ blends\ opacitys_usar a gosto.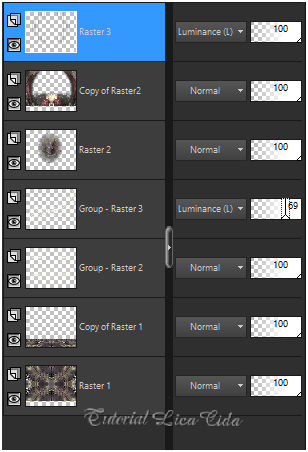 22-Image add borderes 1 pxl \ cor mais escura (#2a2a3a ).
*Effects\ Photo Effects_Film and Filters.
(Aplicar de acordo com seu trabalho)
Edit Copy .
23-Image add borderes 40 pxls \ cor mais clara (#bd97b4). Selecione.
Edit Paste Into Selection.
24-Plugin FunHouse\ Loom..._Default.
*Plugin Graphics Plus\ Cross Shadown_Default.
_Effects \ 3D Effects \ Drop Shadow 0\ 0\ 80\ 40,00. Color=000000.
Selections\ Select none.
25-Edit Copy no 3037 - woman - LB TUBES (1)\ Paste As New Layer.
Mirror\Horizontal . Posicione. Use a gosto.
25-Edit Copy no Grisi_Tube_Decoration_342 (
copy of tube
)
\
Paste As New Layer.
Resize 80%. Posicione.
26-Image add borderes 1 pxl \ cor mais escura (#2a2a3a )